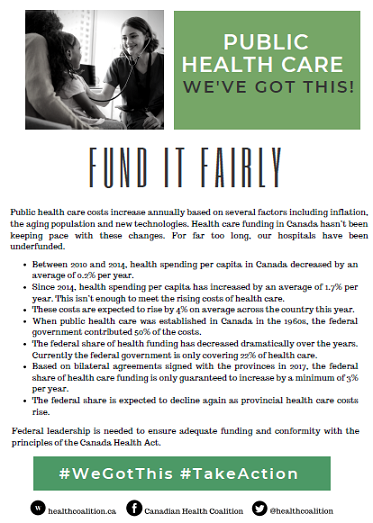 Public health care costs increase annually based on several factors including inflation, the aging population and new technologies. Health care funding in Canada hasn't been keeping pace with these changes. For far too long, our hospitals have been underfunded.
Between 2010 and 2014, health spending per capita in Canada decreased by an average of 0.2% per year.
Since 2014, health spending per capita has increased by an average of 1.7% per year. This isn't enough to meet the rising costs of health care.
These costs are expected to rise by 4% on average across the country this year.
When public health care was established in Canada in the 1960s, the federal government contributed 50% of the costs.
The federal share of health funding has decreased dramatically over the years. Currently the federal government is only covering 22% of health care.
Based on bilateral agreements signed with the provinces in 2017, the federal share of health care funding is only guaranteed to increase by a minimum of 3% per year.
The federal share is expected to decline again as provincial health care costs rise.
Federal leadership is needed to ensure adequate funding and conformity with the principles of the Canada Health Act. Download the handout here. 
Sustainability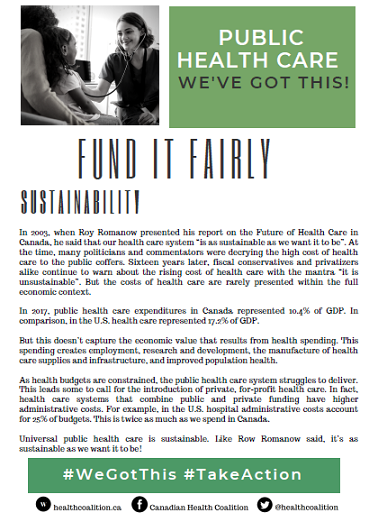 In 2003, when Roy Romanow presented his report on the Future of Health Care in Canada, he said that our health care system "is as sustainable as we want it to be". At the time, many politicians and commentators were decrying the high cost of health care to the public coffers. Sixteen years later, fiscal conservatives and privatizers alike continue to warn about the rising cost of health care with the mantra "it is unsustainable". But the costs of health care are rarely presented within the full economic context.
In 2017, public health care expenditures in Canada represented 10.4% of GDP. In comparison, in the U.S. health care represented 17.2% of GDP.
But this doesn't capture the economic value that results from health spending. This spending creates employment, research and development, the manufacture of health care supplies and infrastructure, and improved population health.
As health budgets are constrained, the public health care system struggles to deliver. This leads some to call for the introduction of private, for-profit health care. In fact, health care systems that combine public and private funding have higher administrative costs. For example, in the U.S. hospital administrative costs account for 25% of budgets. This is twice as much as we spend in Canada.
Universal public health care is sustainable. Like Row Romanow said, it's as sustainable as we want it to be!
#WeGotThis #TakeAction